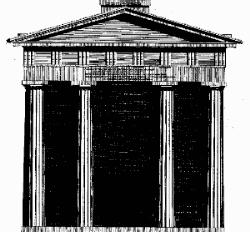 The House of Ptolemy:
Genealogy of the Kings, Queens,
and the Rest of the Royal Ptolemies

---

--- Egyptian Royal Genealogy: Ptolemies
A Mastersite! An annotated genealogy of the Ptolemies, with links to available online sources by Chris Bennett. This is the home page for a larger genealogical project. Select the "Ptolemies" button to reach the actual Ptolemies page, which is the only one currently installed. For those of you who are already knowledgeable about the subject, you might want to proceed by selecting the HIGHLIGHTS button on the Ptolemies page. This is also something of an experiment in how such genealogies should be presented online, and Mr. Bennett thinks some of you may be interested in it from that viewpoint, even if the Ptolemies themselves are not of great interest to you. Any comments, suggestions, corrections, and ideas for additional material or improved organisation and presentation are welcome. All sites should be as good as this.
Additional information:
---
Before the site above was available, I provided the handy -- though very abbreviated -- gegealogy below taken from CLEOPATRA'S EGYPT: Age of the Ptolemies © 1988 The Brooklyn Museum (ISBN 0-87273-113-8: Catalog of an exhibition held at the Brooklyn Museum, NY, USA; 7 Oct 1988-2 Jan 1989).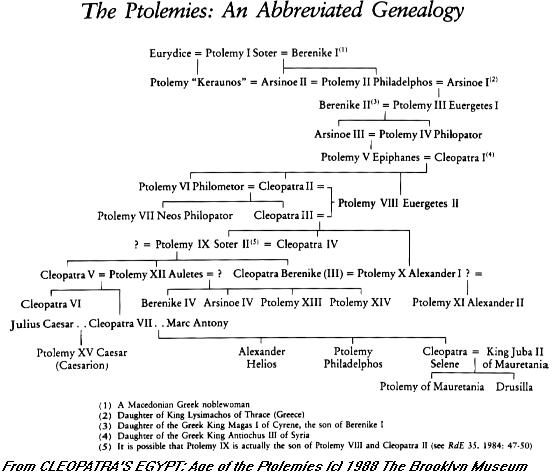 !!! Visit the Museum - - Buy the book !!!

This book is now out of print but you can have Amazon.com track down a copy for you! -- that's how I got my copy.

---
---
---
---
This page accessed
times.

Back to Kings, Queens, and the Rest of the Royal Ptolemies
Back to Caesar, Cleopatra, and Marcus Antonius

Back to House of Ptolemy Index Page


This page is a work in progress: it is constantly evolving and (one hopes!) improving.
Page created by: Adam D. Philippidis: Send e-mail to me
All files constituting The House of Ptolemy web site © Copyright 1997-2010 Adam D. Philippidis.
This was: *** The House of Ptolemy: Genealogy of the Kings, Queens, and the Rest of the Royal Ptolemies *** at
URL http://www.houseofptolemy.org/housegen.htm
Optimized for Netscape® 2.0+ browsers.
Changes last made to this page on: 16-May-2001 (01:56 AM)